Employment and learning
01.08.2019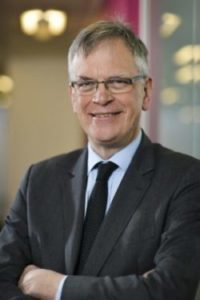 Paul Smee has been supporting Crisis for over 25 years. Throughout his career, Paul has been an expert in housing and finance and brings his knowledge and expertise to help Crisis develop housing models and policy. Paul was instrumental in funding the new Crisis Croydon Skylight centre in 2016.  He now also supports the Technical Skills programme in Croydon, where our members gain qualifications in wood carving, furniture making and upcycling. 
"I have always felt that Crisis wants to tackle the root causes of homelessness, not the symptoms. They have real ambition to get homeless people to develop their talents and learn how to make the most of their lives. Their Skylight centres offer so much and give real evidence of changed lives." 
Although not all homeless people are unemployed, maintaining work can be difficult in unsuitable and unstable accommodation. Being street homeless for a long period of time can be deskilling, which perpetuates homelessness by blocking people out of employment.
Our employment coaches work with members to build their CV, gain work experience, and help them find quality employment or a route in to further education. Across our 11 Skylight centres, we run a range of education classes such as IT, Literacy, and ESOL, as well as practical courses, like Food Hygiene, Furniture Upcycling, and Painting and Decorating. We are always sensitive to the needs and aspirations of every person we're working with and support them at whichever stage of their journey into employment they're at.
The employment market is always changing, and we must keep up to help our members. We're always in need of funding for our education classes, and for our employment coaches across our Skylight centres.

To learn more about funding our employment and education services, and hear about the projects we're developing, please get in touch with the philanthropy team.