Crisis Icebreaker at the Brockwell Lido!
07.01.2019
278
XX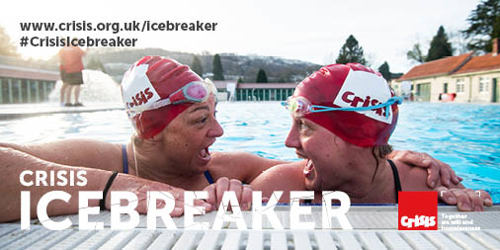 In case you missed it, Saturday 15 December saw a group of extremely brave Crisis supporters brave the rain and cold to complete the Crisis Icebreaker challenge at Brockwell Lido.
It was a very grey day, with freezing rain beating down nearly all day but we had a great crowd and some great costumes from the singles and the relay teams alike. We spotted some power rangers, Zorro, cowboys, angels, Christmas elves, Lucha Libre, hula dancers and even a special appearance from Father Christmas.
These superstars withstood a pool temperature of 6°C and raised more than £8,000 for Crisis! It was a great day, despite the weather, and everyone here at the Crisis Community and Events team loved seeing you all.
Thank you to everyone who took part, and a huge thanks to the wonderful team at Brockwell Lido for having us again this year.
Thanks to:
If you live in London and missed, out, you can sign up to our next Crisis Icebreaker here.