Shelter Guest blog: From the Frontline - the impact of welfare reform
30.08.2019
At Shelter we see the devastating impact of welfare reform every day and we lay bare the consequences in our new report From the Frontline.
The freeze to Local Housing Allowance (LHA), housing benefit for those renting privately, is locking people in a struggle between paying their rent or skipping meals; keeping a roof over their family's heads and buying clothes for themselves or their children. We see families every week threatened with homelessness because of shortfalls between their rent and their housing benefit.
A broad coalition of stakeholders in the housing sector including Shelter have this year joined to support Crisis's Cover the Cost campaign. This calls on the Government to invest in LHA rates in the coming months to make sure they prevent and end homelessness.
Charities, third sector organisations, local government and landlords have come together behind the campaign to warn that the freeze has to come to an end. The Government must respond and respond quickly. At Shelter we believe that everyone will only have access to a secure and affordable home once Government commits to building three million social rent homes and restoring LHA to a level that meets basic local rents.
The ongoing impact of welfare reform
Our analysis found that the majority (65%) of non-working private renters in receipt of LHA are living with shortfalls between their rent, and their housing support. In 2016/17, two in five (42%) faced monthly shortfalls of £100 or more and a further one in eight (14%) faced shortfalls of between £50 and £99.99. These amounts are impossible to budget around in the long term.
Managing day to day
These shortfalls force households to live in constant fear of being able to keep a roof over their heads.
One of our service users epitomised how being on UC made them feel:
"It is humiliating asking for money all the time. Has UC helped manage the finances? No! Bailiffs are here, expenditure is high and rising but the benefit isn't enough at all"
These kinds of experiences aren't just limited to our service users, they are depressingly common across all private renters in receipt of housing benefit. In the last year:
·         One in three (31%) have cut back on food for either themselves or their partner
·         Two in five (37%) have been forced to borrow money to pay for their rent
·         Two in five (37%) have cut back on clothing for themselves or their partner
There is also clear evidence that claimants are being forced to use their subsistence benefits to pay for their housing costs. Our survey shows that one in four private renters receiving housing benefit (26%) have done this.
Homelessness
These shortfalls can only be managed for so long, so it is no surprise that in 2018 the National Audit Office linked LHA cuts to homelessness:
'changes to LHA are likely to have contributed to the affordability of tenancies for those on benefits and are an element of the increase in homelessness'
This is seen in practice by the rise in the ending of an Assured Shorthold tenancy (AST) as a cause of homelessness. The ending of an AST became the most common trigger for homelessness in 2012/13 and increased by 66% since 2011/12 when the first changes to LHA were introduced.
Homelessness occurs not simply when a family loses a settled home, but when they are then unable to afford another suitable home. The chart below illustrates the challenges in finding a home affordable on housing benefit. In one in three (32%) areas in the country the LHA doesn't even cover 10% of properties.
Percentage of areas in England where the LHA rate for a two-bedroom property does not cover the lowest proportions of the local rental market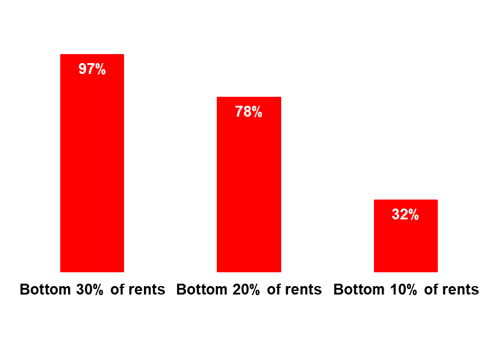 Overcrowding
Our analysis highlights that private renters are having to squeeze themselves into unsuitable accommodation in order to find a home affordable for them on their LHA. The number of overcrowded private rented households who are in receipt of LHA has increased by 61% between 2010/11 and 2016/17 (75,000 to 120,300).
Shelter has long noted the physical and mental health impacts of overcrowding on families and particularly children and we believe that the devastating impact living in overcrowded housing has on a child's development and wellbeing cannot be overstated.
Families should not have to live in inappropriate overcrowded conditions, which put both parents and children at risk of physical and mental health conditions. They should not have to sacrifice their wellbeing by cutting out meals, borrowing money or sacrificing all social activities in order to keep a roof over their heads.
The Government must make a significant investment in social housing so that people can have a secure and safe place to live and they must immediately raise the LHA rates back up to the 30th percentile.
Shelter are supporting Crisis's campaign calling on Government to invest back into LHA rates. To sign up to the #CoverTheCost campaign, please visit: www.crisis.org.uk/coverthecost  
For media enquiries:
E: media@crisis.org.uk
T: 020 7426 3880
For general enquiries:
E: enquiries@crisis.org.uk
T: 0300 636 1967