Five things I've learnt about gifts in Wills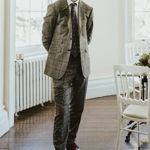 09.09.2019
This week is Remember a Charity Week. Organisations working with everything from health and human rights, to natural disasters and animal welfare, will be talking about gifts in Wills and the crucial difference they make to those causes.
Last year, nearly 38,000 people left a gift to a charity in their Will. But even though it's becoming more and more popular as a way for people to support their favourite charities, I know that for some, thinking about it can still feel a little uncomfortable.
Many people simply may not have considered leaving a gift in their Will, perhaps put off by some of the myths that abound on the subject. In my job, I'm lucky enough to talk every day to amazing people who have recently included a gift to Crisis in their Will. So here are five things I've learnt from my experience of this special way of giving:
1) Gifts in Wills are about celebrating life, not planning for death
Every Will is unique and each one tells a story of the person it belongs to and the people, places and causes that matter to them. It's an expression of how we want to be remembered and a way for our values to live on into the future. 
2) It's much easier, and cheaper, than you might think
Unless you own property overseas or something like that, most Wills are actually quite straightforward. And it needn't be expensive either. If you live in England or Wales, as a Crisis supporter you can write your own Will for free, online, in as little as 20 minutes. Visit Farewill to find out more.
3) Anyone can leave a gift in their Will

There is often a perception that leaving a donation in your Will is something only very well-off people do. But this isn't the case at all. Lots of Crisis supporters who donate to reserve a place at one of our Christmas centres say they feel fortunate to be able to spend Christmas in their own home. And by giving just a small amount, they can make Christmas better for one person. The same is true however you support Crisis. In your Will, you can include a specific amount or a fraction or percentage, which can be whatever you want. Any gift you give will change the lives of homeless people. For example, £52 could pay for someone to attend a CV writing and interview skills workshop to help them get a job and leave homelessness behind. £560 could pay for four people to attend our Renting Ready course, to help them prepare for rented accommodation.
4) Family and friends always come first
Almost everyone's priority will be their family, friends and loved ones – and we completely understand that. Even if you leave 99% of everything you have to those closest to you, you could still leave 1% to Crisis – which could change the life of someone facing homelessness in the future. 
5 Charities need money in the future, not just now
Of course, charities need donations to sustain their services. Crisis works year-round to change the lives of homeless people, through professional courses, mental health support and help with finding housing. We also have a big ambition for the future: to end homelessness altogether. We know it's possible because we have the research to back it up, but it will take time and commitment. Your gift in the future could help make it happen.
So during this year's Remember a Charity week, why not take the opportunity to find out more, or have a conversation with someone you know about the subject. And if you're interested in leaving a gift in your Will to Crisis, I'd love to hear from you. Please get in touch on 020 7036 2642 or george.shelley@crisis.org.uk.
For media enquiries:
E: media@crisis.org.uk
T: 020 7426 3880
For general enquiries:
E: enquiries@crisis.org.uk
T: 0300 636 1967