Christmas in Wales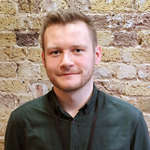 24.01.2019
431
XX
I had a slight understanding of Crisis's work for many years prior to beginning volunteering but seeing the rapid increase in rough sleepers around South Wales motivated me to see what I could do to help. I attended Homelessness Awareness training provided by Crisis and before long I had begun as a fundraising volunteer. This allowed me the opportunity to properly meet the South Wales team and assist them at fundraising events. Meeting the team and hearing about the services they were providing made me eager to contribute more to their work.
When I heard about the role of Christmas Coordinator for South Wales I was very keen to apply. I was motivated by the dedication to end homelessness each member of the team demonstrated. Thankfully my application was successful and after a long journey from Manchester to Swansea for my interview I was offered the opportunity to join the team.
After a hasty move back to South Wales I began the three months of preparation for our Christmas events. This is when I properly realised the importance of Crisis' work over Christmas. To ensure the events were tailored to local needs I frequently met with members to discuss the plans I was putting in place. While I was already somewhat aware, these conversations highlighted to me how severely isolating the festive period could be and the possible consequences for our members. It also made me realise the importance of having social events with both members and staff attending as they allowed members to see staff in a more casual environment, promoting trust and cooperation.
Due to the enormous generosity of businesses, individuals and volunteers all of our South Wales Christmas events were a success and feedback from members has been incredibly positive. I thoroughly enjoyed my time as Christmas Coordinator and hearing the positive feedback from members made all the hard work absolutely worthwhile.
I have now joined the London Skylight Reception team and I'm excited to have more interactions with our members and see the work Crisis carries out year-round to end homelessness.
For media enquiries:
E: media@crisis.org.uk
T: 020 7426 3880
For general enquiries:
E: enquiries@crisis.org.uk
T: 0300 636 1967