Antonella Di Gioia
Antonella has been a classroom volunteer with Crisis Skylight Croydon since May 2016. She supports a variety of classes including IT, Renting Ready, English and Cookery.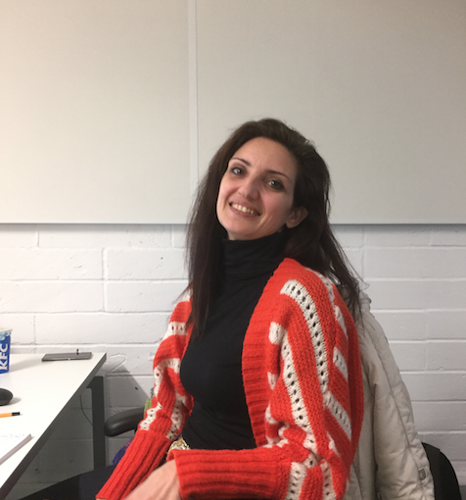 What made you want to volunteer for Crisis?
I always enjoyed helping people. I have lived in a hostel myself so I am aware of the problems around homelessness. A couple of years ago I spent 4 nights volunteering at a college that was opened to homeless people during the Christmas period and it was a great experience, so I decided to get more involved and I am very happy I did.
What do you enjoy about your volunteering with Crisis?
The thing I enjoy the most is the difference you can make in a person's life even just helping them for a few hours a week. Knowing that I have made a difference is the best feeling ever.
Have you learnt anything new during your volunteering/gained any new skills?
I believe you can always learn something from anyone and I have learnt a lot about people, about how to run a class, how to help people in an effective manner, the list is never ending.
Why do you think Crisis classes are important?
I think Crisis classes are of paramount importance, people have the opportunity to acquire new skills and ultimately change the direction of their life.
People feel they have someone who can support them, someone to go to who is patient and caring and will take all the time and effort it takes to help them acquire new skills even if it's one step at a time, in some cases even change their day, their attitude and self confidence.
The classes are a safe place where people can learn at their own pace, without feeling ashamed of their lack of skills, there is no judgement but a lot of understanding and support.
The tutors are very knowledgeable, experienced and run the classes in such a professional, practical and at the same time relaxed way so that everyone can feel comfortable and welcome, it's amazing!
Is there any one memory from your time as a volunteer so far that stands out for you?
Every day is different and special in its own way but my favourite moment is when a few people performed at one of our events. When I met them they seemed quite shy, reserved and introverted and in the end they performed so beautifully and all in from of a crowd! I was a volunteer at the time in their class, I witnessed their journey and the end result was fantastic! There are not enough words to describe the feelings you get being part of something like that.
What difference are you making to our members?
I think members should be answering this question, but personally, sometimes I can make people laugh or instill a bit of confidence in them that pushes them to want to do and achieve more. When I see that and a smile, that's enough for me. But most of all, when I see people keep returning to our classes I know we must be doing something right.
Would you volunteer with Crisis again?
I would and I still am. It is very rewarding on a personal level, you know that the time you give can make a real difference and see it with your own eyes.
Would you recommend volunteering with Crisis? If yes, why?
I would recommend volunteering with Crisis to anyone. Everyone at Crisis is very supportive and understanding and try the best they can to make it easy for volunteers.
You have a chance to learn new skills, have a part in changing people's lives, it's rewarding and it is always good to feel you are doing something worthwhile with your time.