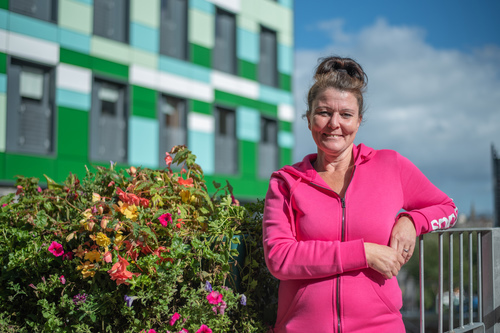 After suddenly losing her brother, Adel struggled to cope and started drinking heavily to take her mind off the situation. She blames her addiction for losing her property and living on the streets. She reached a stage where she became increasingly ill and weak, and was rushed to hospital. When she left, she was placed in a bed and breakfast for a night, then moved into shared accommodation. There she met Crisis, who helped her move into a place of her own. 
"This is the first decent flat I've had in years. I got fed up of dealing with homelessness, being on the street, and people treating me badly. There's only so much of it you can take. Now I can go home and close the door. That's my time. People don't realise the value of that. That's what it's all about."
Adel has now been in recovery for ten months, and continues to be supported out of homelessness with Crisis' support.  
"Since I've been working with Crisis, I've been building my confidence back up. I volunteer with the arts and crafts club, and I've been filmed to support their campaigning work to end homelessness. I think what's kept me clean is having something to do. The first thing was having the flat, which gave me a major buzz. I've got everything going for me now and I don't want to mess it up."